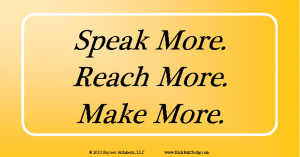 A few years ago I went to a "Speaker Showcase" where there were $500 – $8500 speakers on stage (with the bulk of speakers somewhere in the middle).  I was really curious about the differences.  As I watched it became very evident there were simple but powerful shifts that would get the emerging speakers what they wanted… more speaking gigs, greater reach and more money.  The desire to help them was overwhelming!
These emerging speakers LACKED:
Confidence in their message and in themselves (It detracted from their message)
A clear and compelling message, talk title and description (participants got to choose which speakers to preview)
An engaging stage presence (that captivated participants and made them want to stay in the room)
Useful and visually appealing visuals and handouts
Informative, engaging and professional marketing materials
Can you relate?  Have you ever felt like that?  Do you still feel like that?
Each and every time I watch emerging speakers, that desire to help them remains.  The maximizer in me wants to help them maximize their message.
So, I  decided I was going to help emerging speakers:
Increase confidence in their ability to create and present talks they LOVE.  (You can tell when a speaker doesn't love or even really like what they are speaking about — and passion sells!)  So I created my Kick Butt Signature Talk Bootcamp (where participants work and get feedback on everything needed to be ready for the speaking stage — compelling talk title, compelling marketing description, credibility building bio, clear timed outline, engaging openings/closings/activities, helpful handouts & visuals, and irresistible offers.)
Increase their credibility, confidence, and cash flow onstage and off!  (I get so many questions about what should I price my talk at?  What do I need to do to get invited back to speak? How can I make more money speaking? Etc.) So I've created the Kick Butt Speaker Mastermind.  The mastermind will focus on the BUSINESS of speaking (everything from pricing, marketing, securing gigs, etc.) and helping breakthrough challenges in real time.  There will be accountability and support to help people reach their speaking goals faster and easier.
The benefits of participating in the Kick Butt Speaker Mastermind:
Play BIGGER – When you surround yourself with others who are thinking and playing BIGGER you'll stretch yourself in new and exciting ways! (You are the culmination of who you hang around)
Creative Solutions – Bring whatever you are struggling with or working on for feedback and you'll get creative ideas and solutions to help you! (No more struggling on your own.)
Accountability – you get more accomplished when you publicly state your goals!
Support – Besides the virtual and face-to-face meetings you'll have people you can ask for feedback from in the private FB group and/or reach out to people independently.
Expanded network – When people get to know, like and trust you, they will often refer others to you!  I've found this to be especially true in the speaking realm!  I've gotten some great gigs from other speakers!
Increased Confidence – When you are actively learning, applying and growing, your confidence soars!
The Speaker Mastermind will be limited to 8 people.  Could this be you?  Do you:
Want to become a Kick Butt Speaker?
Have big speaking goals?  Know you have room to grow?
Have a signature talk you LOVE? (With all the pieces completed?)
Want to surround yourself with others with the same passion and goals as you?
Want to support others to achieve their big speaking goals and you work on your own?
If you said yes to the questions above, let's chat!  Please click here to schedule a time to talk to me to discuss the mastermind and whether a good fit for you or not.   Space is limited to 8 people and acceptance isn't automatic.  I want to make sure everyone is ready and is a good fit — because in a mastermind readiness and fit is important to it's overall success.
Are you ready to Speak More, Reach More and Make More?  
Let's get you started! Please click here to schedule a time to talk to me
to discuss the mastermind and whether a good fit for you or not.
P.S.  Got questions?  Call or email me!  
Sincerely,
Amy Zastrow, Kick Butt Business Mentor and Speaker
651.439.8605 | amy@KickButtToday.com